MALAYSIAN MUSIC CALENDAR 2006
---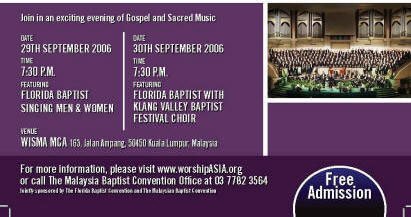 First time ever here in Malaysia, Malaysia Baptist Convention, in partnership with the Florida Baptist Convention is organizing a series of workshops and Choral Celebration. There are 15 different workshops lead by music pastors and teachers that would help enhance your church worship experience, and two wonderful evenings of Choral Celebration. This is an opportunity that is not be to missed.

Workshop will be conducted on September 28th &29th, 2006 at Kuala Lumpur Baptist Church, 70 Cangkat Bukit Bintang, KL. (Registration start at 8am). If you are interested in joining the workshop, please go to www.mbc.org.my/web/English/index.html to download the registration form

While the two evenings of Choral Celebration will be held on September 29th and 30th, 2006 starting at 7:30pm at Wisma MCA, 163 Jalan Ampang, KL.

For a brief description of the workshops that are being offered, please go to
www.worshipasia.org.