A DAY AT THE ZOO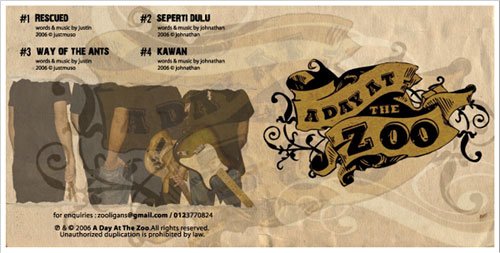 A DAY at the ZOO consist of Christian musicians who are committed to express their love in music. The Rock band with a passion for ministry was formed in 2002 originally with friends in Shah Alam. Later the band began to evolve as talented musicians and Wagner Daniel (drums) joined the original band members, Justin (guitars) and Jonathan(vocals). Over the years the band has been actively involved in evangelism and praise & worship concerts designed to reach out to the people. Justin also preaches the Word at these concerts.
The band networks with various charitable organization in helping people live better lives.

A day a the ZOO is driven, inspired and motivated to communicate Love and positive lifestyle through their music. Seeing from a little child's eye "a day at the zoo" is always filled with excitement, anticipation and loads of fun!
This self titled single (EP) offers a good blend of Rock numbers. The EP was self produced by the band members and recorded at Nick Lee's Sonique studio. Nick Lee helped in the mixing of the album. The album has 2 English songs written by Justin and 2 Malay songs written by Jonathan. The English song Way Of the Ants talks about an average working class person going through their daily chores. The other English song Rescued is about God's grace. The Malay song Seperti Dulu is a love song and a people's favourite. Kawan is about a friend seeing another best buddy slipping away but yet remaining a true friend.

The album is now on dale at Canaanland Book stores.
Website : www.purevolume.com/adayatthezoo
E mail : zooligans@gmail.com
Telephone Contact : 012-3770824