Timmy Tapir learns To Do What's Right – Josephine Yoong

Upon Grandpa Tapir's advice, Timmy Tapir goes on a search for what it means to 'Do what's right'. Join him as he asks those he loves and finds nuggets of truth through simple rhymes about what INTEGRITY means.






Purchase from website: www.preciouspages.com.my



---

Tapir & Friends – The Quest for the Great Pearl – Patricia Chew

"There is trouble brewing in the exotic Evergreen Forest."
Rex the Lion and Raja the Elephant are very concerned about it. To restore peace and order, the animals have to find the mysterious Great Pearl. A motley gang of animals bravely step up for the task and go on a wild and exciting journey that takes them to places such as The Dragon's Lair and the Land of a Thousand Waters.
Will they find the Great Pearl and will peace be restored in Evergreen Forest? Join the animals on their journey and discover for yourself.
Purchase from Website: www.preciouspages.com.my
---

PAIN IN AN ANSWERED PRAYERS
by Hannah P. Y. Hiew

"God will not save us from getting hurt. If that pain is part of His purpose for making us better".
(quoted by Selwyn Hughes in an Every day with Jesus devotional)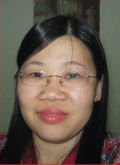 These were parts of a devotional passage which Hannah believed God had used to lead her to write her story.

This story depicts of her miraculous survival through 33 years of being a thalassaemia major, 20 years of diabetes, a life threatening heart condition, three car accidents, severe depression and a mental breakdown.

She shares of her search for the much-wanted healing; she had tirelessly sought the many doctors and gone for all the healing rallies in vain. This led her to depression for God's ultimate answer.

It's a story of her faith, courage and determination over three decades during which God's power, sustenance and protection were evident in her life.

It's also a story of her daily struggles as a transfusion dependent thalassaemic and an insulin dependent diabetic. She shares how she manages her condition and eventually overcame them.

Finally, her story reveals how she discovers God's purpose for her life and how He uses her to share His love to others

"Hannah's remarkable story is presented with startling honesty and brave vulnerability. Her candid account of courage in the face of pain and adversity will inspire all readers to set aside their own agenda and embrace an intimate relationship with a God of miracles."



---

FAITH ADVENTURES
by Lucy Loo

Lucy's songwriting ability is already well documented, having released 6 SAND albums. However, Faith Ventures is Lucy's first venture into writing. It is a collection of her devotional thoughts, written from her real life experiences and encounter with God. Lucy shares her personal and sometimes intimate stories of her journey in faith and worship.

Her devotions challenge people to walk in faith and also capture an accurate perspective of what God expects in our worship. She writes of how God speaks to her, how she obeys and how God turns impossible situations to become a blessing. Lucy is able to draw lessons from God in her everyday life. Some of her stories are related to her 2 children, her relationship with her husband, where her songs come from or taking the SAND team for a concert. Her stories and lessons in life are very inspiring..

Faith Adventures is easy to read. The devotions will encourage you to "jump" in faith and worship God intimately


Website: www.masterpiecemusic.com.my


---

ROAD TO BEAUTIFUL
by Gerard Khaw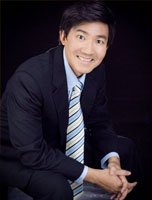 Synopsis of "Road to Beautiful"
Road to Beautiful is a true story of a young man whose promising career was abruptly halted after he was diagnosed with Stage Three nose cancer. This is a story about one man's triumph over the fear of death, and the challenges he experienced in overcoming physical, mental and emotional anguish.

In 2006, when Gerard Khaw first discovered that he had cancer, his entire world was shattered but he managed to overcome it. Two years later, he suffered a relapse and was subsequently diagnosed with Stage Four liver metastases. The medical fraternity termed the condition as "unusual" leaving his life to hang in the balance. During the long battle that follows, Gerard learned that the fight over cancer is "winnable" with divine power in Jesus.

This book chronicles the ups and downs that Gerard Khaw underwent, and the "wins" that he achieved in his fight over cancer. Despite the persistent odds against him, he refused to give up. Even while undergoing treatment, Gerard continued to pursue his dream in obtaining an MBA. With God on his side, coupled with sheer determination and the will to win, Gerard Khaw eventually graduated with a Masters in Business Administration from the University of South Australia in March 2011.

About the Author
Gerard Khaw is a cancer survivor and is married with two beautiful daughters. He has served as General Manager for an American company in Asia Pacific. Gerard earned his MBA at the University of South Australia. Currently, he lives in Penang, Malaysia.

Review
"This book is about Gerard's life journey with God, his encounter with the storms of life, his fight of faith, and his victory in God. This is a must-read for everyone. It will change you -- your perspective of life and the way you live."
- Rev Felix Chuah, Senior Pastor of Harvest Christian Centre, Penang, Malaysia

Price: RM30
Some proceeds of this book will be contributed to Charis Hospice, a non-profit organization offering free palliative home care services to patients with cancer.

For enquiries:
Email: road2beautifulhope@gmail.com




---

FOUND IN CHRIST
by Pr. Sam Surendran's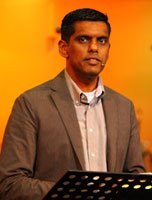 Introducing Pr. Sam Surendran's first book:

Jesus: The Absolute Reality in a Virtual World
(Discover your worth and significance in Jesus Christ alone)

A brief synopsis of the book:
Sometimes, our problem is not that we don't love God, but that we don't know how much God loves us. "Found In Christ" reveals God's amazing, boundless and endless love. The love of God is revealed through His unconditional acceptance of "who we are in Him" and not "what we do for Him". Through "Found In Christ" you will discover your worth, significance and self-esteem through Jesus' finished work on the cross.



---
Reaching An Unreached People Group: The Jehai of the Temenggor Forest
by Dr Paul Chen

Book Review by Elder Doraisingam Manikam, Missions Director, Full Gospel Assembly.

The Jehai is one of the six ethnic Negrito groups of the Orang Asli cluster. What does it take to reach an unreached people group? Conceptually, it would take cross-cultural evangelism and church planting. One would not escape the fact that cross-cultural evangelism is only a partner in the overall Christian mission. In the context of the Kingdom of God, it is never accomplished in isolation from the other basic needs of the people. Reaching the unreached takes into serious account the pressing needs of the people, whether it is food security, health care, educational opportunity and physical safety. Reaching the Jehai at the Temenggor Forest captures the correct approach in seeing people within a holistic framework of kingdom thinking.

The work among the Jehai is remarkable because it has emerged out of a holistic framework of kingdom thinking. Paul infuses in the framework the cultural understanding of the people along with their health, economic, educational and spiritual needs. Lest one thinks that this framework is merely a conceptual one, Paul demonstrates that this framework is filled with love, kindness, patience, wisdom and tenacity. It is an exciting story of a people's journey towards faith in Jesus Christ. This is a significant contribution to the missions in Malaysia. It is highly recommended for every local student in missions.

About the author

Dr. Paul Chen is the Senior Pastor of the River of Life Sanctuary Bandar Puteri, Selangor and is an ordained minister. He is a medical doctor and was Professor of Preventive Medicine in the University of Malaya and Professor of Community Medicine in the International Medical University Kuala Lumpur. He has served in the World Health Organization in Southeast Asia and as the Representative of the World Health Organization and Head of WHO Programmes in Papua New Guinea.

156 paged book with 82 photographs and 2 maps. Cost RM 20.00 in Malaysia excluding postal charges. Overseas price on application.

For more information contact:
Email: paulchen777@yahoo.com
Website: www.rlsbp.org


---
ROADMAP

This guide for the teenager towards adulthood is useful for everyone. Our body needs many important vitamins to stay healthy and strong. Similarly, Pastor Steven has incorporated many ingredients in this booklet for the person to stay physically, emotionally and spiritually healthy. It is packaged into simple ?matter of fact? tips for daily living. For the busy teenager, they can read the booklet either as a daily devotional or reminder to avoid the many pitfalls of today?s world.

Hopefully, this booklet can win one person for the Lord Jesus Christ. Along with this person who walks in His way, the spouse, family, community and finally the whole nation can look to God and obey Him.

Dr Yoong Sao Chin
B. Pharmacy, MBBS (Mal)
Director, Disaster Relief Organization CREST.

For more information, contact author
Stephen Wong : E mail wkp2020@yahoo.com

---
A Biblical Approach to Indian Traditions and Beliefs by Dr Joshua Raj

This is a useful resource for those seeking to live the Christian life within the culture and traditions of the Indian community. Certain Indian practices and beliefs are clearly incompatible with biblical teaching,due to their religious connotations and associations. At other times, the Indian Christian is confronted with family situations, beliefs and traditions for which guidelines are not given in the Bible.In such situations, Christians may disagree on what to do. In this instructive and enlightening book,many India practices, beliefs and traditions which fall into these grey areas are examined through the lens of a Christian mindset. The main principle involves two propositions — to choose things that edify and aid personal growth (1 Corinthians 10:23) and to choose the good of others over self (1 Corinthians 10:24)

Rev Dr Joshua Raj is the Director, South Asia Mission (www.southasiamission.com) Email: dr.joshua.raj@gmail.com

Armour Publishing, Singapore 2008
http://www.armourpublishing.com/catalog/product_info.php?cPath=21_22&products_id=84

Cost : S$18.00. To order, please email jenny@armourpublishing.com or call 65-6276-9976
---
101 Things about Prayer – Steven Wong



In the introduction of his book, Steven shares about his near death experience when he was viciously attacked by 2 persons with a knife and rod. Severely injured and bleeding profusely, he miraculously managed to escape from his attackers. In his recovery process, he developed an intimate prayer life with God. Most of his thoughts on prayer were during his recovery process. The book can actually be used as a daily devotion where you can learn a different angle on prayer each day.

About the author: Steven Wong

Steven Wong is also the author of "Exposing Chinese Ancestor Worship". He is married to Lai Ngarn and they have 3 children. He is a church leader, author, and engineer and also a businessman.

E Mail : wkp2020@gmail.com
---
"Journeys of the Heart" – Janan Goh

Synopsis:



'Journeys of the Heart' captures the writings of a Malaysian Christian who has braved through his youth and twenties and has emerged with a telling tale to encourage all of this simple truth: Following Jesus is worth it! Six short but captivating Letticles (short articles) is all there is… but like life, the journey itself is worth more than its length.

What should you expect when you get a copy of this? An interesting interview with Dr. Heart… a suspense-ridden surgery… a powerful poem… a hearty steak… and maybe a short walk down memory lane with your heart. All these come alive in this short 72 page book!

The book itself is not yet sold at bookshops and so, if you would like to order a copy, kindly e-mail to janangoh@yahoo.com for more details.

About the author:

Janan Goh worships at Damansara Utama Methodist Church (DUMC) and actively serves in various ministries, which includes as Zone Leader and Course Trainer. He leads the Writing Team in his church which produces two e-newsletters every week. He has also been actively writing for more than ten years since his college days, which includes the now popular Letticles series. He works full-time in a Global Advisory company.
---
"Exposing Chinese Ancestor worship" – Steven Wong

Book Review by Rev. Lai Moo Him



The author of this book states his intention, in the preface, of wishing to 'mark out a conclusive line of division between what is Ancestor worship, what is culture, and what is the stand from a Christian perspective.' He has succeeded admirably in this. In doing so, he has done a great service to the Christian community in Malaysia by giving a comprehensive introduction to the intricacies of Chinese culture and the difficulties that so often beset Chinese Christians in their dealings with staunchly traditional families.

The chapters are well thought out and well presented. While it is not meant to be an exhaustive study of all aspects of Ancestor worship, the author provides practical, and more importantly, Biblical, treatments of topics such as conduct during funerals and weddings (Chapter 5), and the question of filial piety – all of which are extremely relevant in Malaysian Chinese culture. Another valuable resource is to be found in Chapter 10, which gives Christian substitutes for Ancestor worship – something that has, thus far, seldom been addressed by the Christian community at large, and which is becoming more and more necessary as time goes on.

The multicultural melting pot of Malaysian society raises a great many complex questions for local Christians, especially with regards to various cultural practices. This book makes a start by addressing some of these concerns. It is indeed timely, and an essential reference for anyone wishing to seek sound Biblical perspectives and practical guidelines on dealing with Chinese Ancestor worship.

Blog : http://exposingchineseancestorworship.blogspot.com/
---
ReconRe Ministries
Website : http://www.reconre.org/

Vision
To encourage Malaysian Christians to express God's reconciliation with man at the horizontal level on earth

Mission
To care for and support full-time faithful Christian workers. To encourage Christians to creatively express God's reconciliation with His world.

Strategy
To provide a Resource Centre, Quiet Retreat Centres, Contexualised literature & the training of lay pastoral counsellors

a) Lee Bee Teik, Dr.

Dr. Lee Bee Teik is the founding director of Reconre Ministries. She earlier laid down the practice of medicine to be with her children. In 1992, the Lord called her to the writing ministry and then to minister to His fulltime workers through pastoral counselling and quiet retreats. Her other areas of service include the training of lay pastoral counsellors and the facilitating of personal or small group quiet retreats and seminars. Dr Lee is married to Bishop (Dr). Hwa Yung of the Methodist Church in Malaysia and they have three adult children.

Some of the books Lee Bee Teik has written are below :-
Pastoral Counselling and the Science of Psychology
Seeing God through ordinary eyes
A Pilgrim's Progress
From distress to progress
Crossing barriers with Jesus
Looking at creation
Listen to the stories
Listen to their heart cries
Listen to God's whispers
Listen to the children
Building a love house
Behold your pastor
Friends of the bridegroom
Deepening Joy



Website : http://www.reconre.org/


b) Tan Eng Jinn – The Last Passion


Tan Eng Jinn is currently a retired businessman. He heard God's call to be trained to serve Him while studying in Melbourne, Australia, in the late 50's. On returning to Penang, his hometown, he has been a faithful lay preacher at Chinese Methodist churches in Penang for over 3 decades. Tan's quiet and steady influence has borne fruit in several of his regular bible study class students at the Wesley Methodist Church MYF, Penang, as they have obeyed God's call to various lay and full time Christian ministries. He is also an active member of the Persatuan Gideon Pulau Pinang. He is married to Teh Keat Hwa, a homemaker, and they have two adult children.

This book is a study of the last seven words of Christ while he was crucified on the cross over 2000 years ago. Time has not lessened the impact of these words on readers as the author brings them to life through careful research and exposition. The written word will lead us to the Living Word as we place ourselves at the foot of the cross to watch, to listen and to ponder on the events of the day that changed history forever.

Website : http://www.reconre.org/

c) Booklet series – A Set of 18 topical titles

There are 18 titles in this booklet series, each booklet being about 30- 36 pages long only:
The Gift of Feeling
Your Soul Print and You
Understanding Burnout
Understanding and Managing Stress
The 8 Stages of Life on Earth
Understanding Nervous Breakdown
Mind Your Language - Everyday Uses & Misuses
Lay Marital Counseling
Tips on Family and Marriage
A Letter to Youths - Parents May Peep If They Wish!
Understanding Adolescents
Human Sexuality, BGR Issues and Sexual Trauma – Why Hurt So Much and So Long
Understanding 21st Century Singles - Its Implications and Our Responses
Freedom, Morality, Privileges and Responsibilities
Seeking God's Will - Careers and Vocations - what's the difference?
Understanding Addictions to work, alcohol, sexual habits and … PEOPLE
Global Kids & Changes
The Forgotten Teenagers – Christian Kids





Website : http://www.reconre.org/
---

Susan Tang - The Station of Life

Susan Tang heads The Station of Life, which is an Apostolic School of Renewal For Pastors, Missionaries and Lay Leaders. A Life Changing School That Will Bring You Back To God's Ancient Ways and The Old Paths That Will Give You Rest. Jeremiah 6:16

Her books include the following :-
Breakthrough at Sunset
Broken Altars
Lifting the nation above the "floods".
Ministry Principle 1&2
The Anointed Priest Who Sins
Demands of Love
Spiritual Intimacy
Website : http://station-of-life.org/



---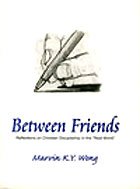 Between Friends by Marvin Wong

In Between Friends, Marvin Wong examines the challenges of living out an authentic Christian faith in the Malaysian marketplace. The broad range of topics - from calling to guidance, work, rest, leisure, ambition, parents, singleness, temptations and society - are examined in a warm, thoughtful and personal way.

Website: http://su.org.my/content/view/29/37/
---

Making Sense –52 Meditations for the Heart and Mind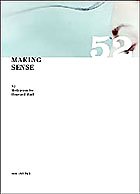 By Tan Soo-Inn

The reflections in this book are culled from the author's collection of weekly e-commentaries that have spanned a period of five years. As Prof James M. Houston says in his foreword, "…it is fresh, it vibrates with the breadth of life, and it lives in the light of God's grace." Often vulnerably honest, the author shares with us his own life's journey, filled as it has been with pain and redemption. The reflections show us that there are precious lessons to be learnt even in the darkest of moments, when we allow the light of God's Word to show us the way.

Tan Soo-Inn has worked as a dentist, a pastor and as an executive secretary of a Christian NGO. He now runs the Grace@Work ministry. His passions include teaching, writing and changing lives through biblical understanding and spiritual friendship.

Website : http://www.graceatwork.org/


---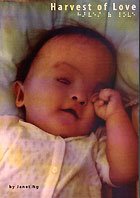 Harvest of Love – Janet Ng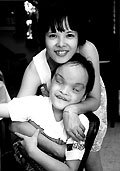 Colin was born with multiple disabilities including blindness, skull and spinal deformities. The doctor's told his mother, Janet Ng to give up on her newborn child as his chances of survival past his first month were slim. But Colin did not die in the first month but went all the way to college.

Harvest of Love is extraordinary story of a mother's struggle in bringing up a special child. Janet Ng shares how she overcame depression, society's rejection, hurts, financial constraints and many practical difficulties in bringing up Colin. She provides an intimate window into the world of the visually impaired. This story is an inspiration to all with special children not to give up.

Read full feature of the Book by SY Phang - Bringing up Colin
Harvest of Love' is available from MPH and Popular Book Store at RM29.90 per copy. Discounted price is available for bulk orders and fund-raising projects. Contact the publisher at flexxiassociates@gmail.com or call 603-7803 7698 or 012-292 1460.
---

Malaysian Baptist Theological Seminary (MBTS)

Below are some publications from MBTS
BTJ Silk Road Challenge Movement – Dr. John Ong
The Master of the Storm – Dr. John Ong
Having a Global Vision – Going into the Harvest Field – Dr. John Ong.
Q&A : Baptist Faith and Policy – Dr. John Ong
The Renewal of Malaysian Chinese Churches – Dr. John Ong
Ears to Hear – A Guide for Interpretation of the Bible – William H. Lawson
Obedient to death : A guide for the interpretation of Paul's Epistle to the Philippians – William H. Lawson
Rhetorical Questions in the Post Exilic Minor Prophets – Mak Wai Sing
The Baptist People : Understanding the History, Beliefs and Policy of the Baptist – Thomas C.M. Chin
The Lion Roars from Zion – A Guide for the Interpretation of the Book of Amos – William H. Lawson
Website : http://www.mbts.net.my/ Or direct link : http://www.mbts.net.my/bks_details.htm


---

KAIROS RESEARCH CENTRE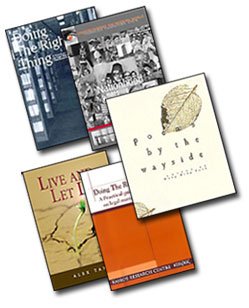 The Church in Malaysia urgently needs to develop a thoughtful and comprehensive answer to contemporary challenges to its life and mission. In response to this task Kairos Research Centre was set up in 1993 by a group of evangelical leaders with the following objectives:
To encourage and facilitate Christian research and scholarship on issues relevant to Malaysian Christianity.
To contribute towards the intellectual development of Christian leaders and thinkers.
Current research includes publications in the following areas:
Developing Christian Strategies for Constructive Engagements in society, touching on church-state relations with special interest in an environment where Christianity is a minority religion.
Christianity in a Pluralistic Society, touching on the uniqueness of Christ in the light of religious pluralism.
The Board of Directors comprises Mr. Chow Chee Yan, Rev. Dr.Hwa Yung, Mr. Philip T. N. Koh, Dr. Lee Kam Hing, Dr. Ng Kam Weng (Research Director), Mr. M. Selveindran and Rev. Wong Fong Yang.

Website : http://www.kairos-malaysia.org/

---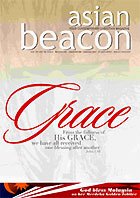 Asian Beacon History – Bi-monthly magazine since 1969

Asian Beacon was born in Malacca during a period of crisis in the Malaysian history. It was 1969, the year of the racial riots. Rev Ben Sawatsky, an American missionary with Evangelical Free Church, took the initiative to get Asian Beacon started as the first Christian magazine for Malaysian Christians among the evangelical churches. Naturally, he became the first editor. Morris Palmer, a fellow missionary, took over the running of this magazine after Sawatsky went on furlough. The baton was then passed on in 1974 when both Sawatsky and Palmer left Malaysia. Dr Chong Kwong Tek took over as the first Malaysian editor and together with Goldie they assumed the editorial responsibilities of Asian Beacon…….. By the time they left for Hong Kong in 1978, the magazine reached a peak circulation of seven to eight thousand copies per issue. The baton was then passed to Goh Poh Gaik as Editor and Ngoh Peng Teck as Chairman. It was at this time that the magazine expanded its scope of coverage to include readers from the growing pentecostal and charismatic segments of the Christian population……

Read more……

Website : www.asianbeacon.org
---
ASIAN REFLECTIONS – Scripture Union ( Malaysia)

Asian Reflections is produced by Scripture Union Peninsular Malaysia. It is the continuation series for Asian Notes. This systematic Quiet Time material will help you meet God daily through His Word and grow in your relationship with Him. Written by Asians for Asians, this is a 4-year series covering 100% of the Scriptures.
Other special features include:
> Key verse for each day's reading...
> Bible texts in NIV printed for your convenient reading...
> Space for you to pen down your thoughts...
> Closing challenge for further reflection and response...

Website : www.su.org.my




---

Seminari Theologi Malaysia (STM) Publications (Malaysia Theological Seminary)

Below are the books published by STM Lecturers.
Beyond AD 2000 - Rev Dr Hwa Yung
Folk Hinduism - Rev Dr Solomon Rajah
Introduction to the book of Galations - Rev Dr Ezra Kok Hon Seng
Job Made Simple - Rev Anthony Y.F. Loke
Mangoes or Bananas ? - Rev Dr Hwa Yung
Memahami Kitab Amsal - Rev Anthony Y.F.Loke
Preacher , Prepare Yourself ! - Rev Tan Jin Huat
Proverbs Made Simple - Rev Anthony Y.F.Loke
Rediscovering the Bible - Rev Dr Ezra Kok Hon Seng, Simon S.M. Wong & Alex T.M. Cheung
Symbols & the Church - Rev Dr Solomon Rajah
Truth of the Gospel - Rev Dr Ezra Kok Hon Seng
Violence and Peace - Rev Dr Solomon Rajah
We Believe in One God ? - Rev Dr Albert Sundararaj Walters
Website : http://www.stm.edu.my/

Or direct link: http://www.stm.edu.my/english/index.php?option=com_content&task=category&sectionid=8&id=23&Itemid=65



---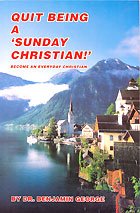 Quit Being a Sunday Christian – George, Benjamin Dr.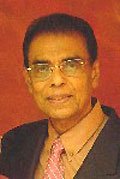 This book is about your life here today and your destiny hereafter! It challenges every Christian to 'QUIT BEING A SUNDAY CHRISTIAN!' You cannot be a Christian only on Sundays. It is time for all who call themselves Christians to become EVERYDAY CHRISTIANS and DISCIPLES OF JESUS and also DISCIPLE-MAKERS IN THE MARKET PLACE!
Dr. Benjamin George is a medical doctor. Born in Kerala, India, he graduated in Medicine in 1955. He moved to Malaysia in 1956 and joined the Ministry of Health as a Medical Officer. In 1985, he published a book 'TOWARDS 2000 – REACHING THE WORLD'S BILLIONS'.
Website : http://www.help4today.com/
---
A Song in the night – My Love Story - Chan , KB



A Song in the Night is KB Chan's life testimony of how he overcame
adversity and limitations. Needing dialysis three times a week did not stop him from serving God. He pursued his dreams, wrote songs, traveled to minister in churches, released 6 albums and wrote his book. Anyone reading KB Chan's story can only admire his determination to honor and worship God.

Website : www.kbchan.net
---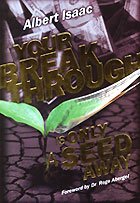 Your Breakthrough is only A Seed Away – Isaac, Albert



This book helps us break away from a cycle of poverty and reap when times are tough. Albert Isaac give us principles on how to gain favor for job promotions and prosperity in your business, family and relationships.

The author Dr. Albert Isaac is a gifted communicator and motivator. He has a dynamic international ministry and is the Founder and Senior Pastor of World Harvest Church, Malaysia which has over 100 branch churches and ministries throughout South East Asia Region. Isaac is committed to see people break free and achieve their fullest potential and success in life.

Website : www.whcmy.org
---
NECF Publications

The National Evangelical Christian Fellowship (NECF) Malaysia is a member of the World Evangelical Alliance (WEA), Evangelical Fellowship of Asia and one of the three component bodies of the Christian Federation of Malaysia (CFM). Below are some of their publications
NECF Survey of Churches, Pastors and Christians – NECF Research Commission
A Spiritual Health-check of the Church in Malaysia – NECF Research Commission
Engagement or Isolation ? – A Malaysian Christian Perspective on Globalization.
The Pursuit of God's Cause – A collection of essays on the life and impact of the Evangelical Church in Malaysia
The Realities of Christian Living
Website : http://www.necf.org.my/



---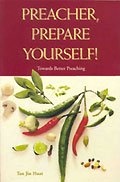 Preacher, Prepare Yourself – Tan, Jin Huat

This book provides helpful answers to preachers and shows how the preacher can work systematically from scratch to a complete sermon by following clearly defined steps. The manual is easy to follow and a good practical guidebook for every preacher.
Tan Jin Huat is the Academic Dean at Seminari Theoloji Malaysia and an Anglican minister of a local Anglican church. He studied Chemistry at the University of Malaya and theology at Trinity College, Bristol, London Bible College and the University of Aberdeen in UK.
---
Irene Swan – A Peek into the Father's Heart
Pastor Irene Swan pastors at the Tabernacle of David, Kuala Lumpur.
This book will introduce the body of Christ to the many facets of the Father's heart and the different expressions of His love. In these times of growing darkness and increasing challenge, this writing is spiritual food to the hungry heart.
Website : www.todavid.com
---
Rev. Wong Kim Kong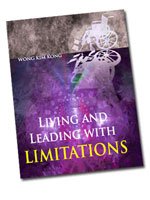 Rev. Wong Kim Kong is the Secretary-General of the National Evangelical Christian Fellowship (NECF) Malaysia. He also serves as the Hon. Treasurer of the Evangelical Fellowship of Asia (EFA). He was the immediate past Vice-Chairman of the International Council of the World Evangelical Alliance (WEA) 2001-2005. Kim Kong was the founding Chairman and former Executive Director of Malaysian CARE, a Christian relief organization. He co-founded the Diakonia Christian Church and presides as Elder since 1977.

Living and Leading without limitations – Rev Wong Kim Kong
This is an inspiring story of a life willingly given to God in servicethrough obedience. Candidly written and without embellishment, Rev. Wong Kim Kong begins by revealing his myriad and enormous struggles, chiefly arising from his physical disability and wonders hopelessly how he can ever make it in life with such a severe handicap as a pair of deformed legs. But God in His grace and purpose, liberated and transformed him. Through a changed perspective of life, he committed to excel in every task, both given and initiated for the glory of his Lord. Despite limitations, he rose to become an outstanding Christian leader in Malaysia.

Website : www.wongkimkong.com
---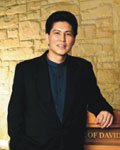 David Swan

David Swan (Tan Suan Chew) is the founding pastor of Tabernacle of David, an apostolic and worshipping church which has planted several outreach churches. He has ministered in and hosted apostolic, prophetic and worship conventions nationally and abroad. He has pastored since 1976 and has authored six books, The Davidic Generation, Understanding the Spiritual Seasons of Life, Moving into the Holy of Holies, The Power of Prophetic worship, Passion for the Glory and The Ministry of Kings. A few of his books have been translated into several languages. Apostle David is president of the International Fellowship of Worshipping Churches and principal of Tabernacle of David Prophetic worship School. He was ordained as an apostle by the Apostolic Presbytery Team of Impact Network USA, presided by Apostle Dr John J. Eckhardt.

Website : www.todavid.com


---
Dr. Victor Chen MBBS, MBA
Prolific Writer and Health Guru, Dr. Victor Chen is making waves with his health books. What started only as a hobby, he has now 10 health books to his credit. Among his health books are Weight Loss From Your Own Kitchen, Staying Healthy, Staying Vital, Age Without Getting Old, The New Cholesterol Homocysteine, Protect Yourself With Propolis, Managing Academic and Work Stress, Why People Never Get Sick, Protect Yourself With Transfer Factor, Boosting His and Her Performance, Battle Plan Against Cardiovascular Disease. He has also written 2 devotional books entitled A Little Deeper and Refresh – Psalms for 21st Century Living.

Over the years Dr.Victor Chen has seen health from 2 different perspectives, firstly from the viewpoint of a western-educated physician and secondly from his working experiences in the pharmaceutical business. He worked as a Medical Director of Abbot Laboratories, Pharmacia ( Malaysia/Singapore) and Schering (Malaysia/ Singapore) handling products ranging from pharmaceuticals, vitamins, anesthesia, skin care products, to medical & pediatric nutrition. He was also the Head of Scientific Affairs of Altana Pharma, Asia.

This 2 different perspectives have given him an insight to health not commonly seen by doctors and nutritionists in their own separate fields. Combining these 2 skills, this sports-loving doctor and avid reader has developed a new model for health as communicated in his increasing range of books.

Victor Chen founded Eleventh Hour with a vision to impart understanding of health sciences to the public and healthcare distributors. He currently lectures and provide health training for people desiring to improve their health on the long term.
Website : www.drvictorchen.com
E mail : victor@drvictorchen.com