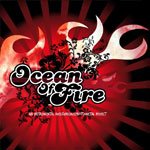 Ocean of Fire (Rock Fusion album)
Review by : Ng Wah Lok

Rock Fusion band Ocean of fire is making waves with their debut release " Ocean of Fire". Comprising of Kelvyn Yeang (lead guitar/band leader), Chiat (guitars), Jonathan Chen (bass) and Jonathan Scull (drums), the band came together in 2003 playing their own brand of instrumental music. Their early music influences came from various prog groups and solo artists like Dream Theatre and Yngwei malmsteen. Over the years, their music evolved into their own unique Rock Fusion style.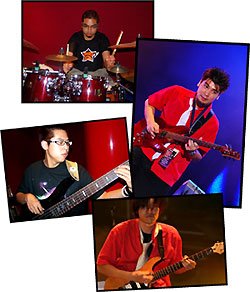 Their debut album, also entitled "Ocean of Fire" consists of 11 of their original songs and a Christmas Medley. Their music is generally loud and will appeal to Rock Music lovers. Some songs like Ctl Alt Dlt and Sea Shell have a touch of jazz. Critical Strike, Arch Angel, River dance & Non Classical Nonsense are in their unique Rock Fusion style. They also recorded a Christmas Medley is a Rock Style. One can only imagine how they have transformed traditional Christmas songs into a Rock Fusion genre. Non- rock music lovers may find their album loud but any good musician must admire their amazing guitar skills. The lead guitarist and band leader Kelvyn Yeang's performed his guitars with precision and speed. With this release, Kelvyn Yeang is emerging to be one of the top lead guitarists in Malaysia.

The band's major breakthrough came at the Asian Beat 2006/2007 National finals. They came up winners and were chosen to represent Malaysia in the Grand Finals held in Sunway Surf Beach, Kuala Lumpur. At the Grand Finals, they competed against bands from Indonesia, Singapore, Taiwan, Hong Kong and China and emerged runners-up. Besides this, the band also bagged two individual prizes with Kelvyn Yeang as the best guitarist and Jonathan Chen as the best bassist.

E mail : kelyeang@gmail.com
Website : www.myspace.com/oceanoffire1