EVERY TIME I PRAY is Wah Lok's debut album released in 2001. Wah Lok has written more than 100 songs over 25 years. This album contains his most popular song Every Time I Pray written in 1981. This song made a global impact in Mandarin churches all over the world. There are at least 10 Mandarin recordings of the song in Taiwan, United States and Hong Kong but this album contains the first English recording.

Another song Approved in Every Way was written in 1982. The song is about the pioneers of Full Gospel Tabernacle (FGT) who made great sacrifices to serve God. Wah Lok wrote another popular song How I love to worship in 1985 with his wife, Bessie Mah. This recording gives a jazz arrangement of the song. In 1995, after taking a 6 year break from song writing, Wah Lok wrote the song Flow Holy Spirit. Wah Lok says, " The song was completed within one hour. The lyrics and music came all at once. It was like the anointing of the Spirit suddenly came again after a 6 year break". Flow Holy Sprit is arranged with some fanciful guitaring by Jordan Rivers. "We're here by grace" was written in 1999 for FGT's 19th anniversary. The song is a reflection of God grace and goodness

The album was produced by Timothy Lee. Lead vocals were performed by Bernard George, Patrick Leong, Maria Rebano, Elizabeth Hah, Kathleen Fong, Aris Siew, Jordan Rivers and Alan Tan.Wah Lok is presently the Principal of Tung Ling Seminary and Pastor at FGT's branch at Sri Damansara.E mail : wahlok.fgt@gmail.com

| Free Download ]

[ LISTEN ]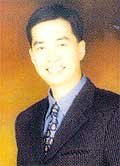 Aris Siew - Sr Pastor of Praise City Church
TOGETHER WE STAND is a collection of 13 songs composed, sung and enjoyed in Praise City Church.. Timothy Lee, producer of the very popular "Every Time I Pray", has brought together a team of 50 odd musicians and singers from various churches to record "Together We Stand" the album. Lead vocals in the album were sung by Sr. Pastor Aris Siew, Gregg Martinez, Douglas Lim (last seen on TV as the hairstylist in the comedy show Kopi Thiam) and Esther Rebano. The album will be used to raise funds for their new building. This album employs various styles of music from pop rock to latin to unplugged. The production team comes form the whole spectrum of denominations, ie Assemblies of God, Full Gospel Assembly, Methodist, Anglican, Brethren, Independent, etc
Their title song "Together We Stand" , written by Kok Yen and Aris Siew is a call for unity.
Website: http://www.together2001.org
E-mail: producer@together2001.org

This album is a collection of Psalms written into songs by Alfred Lee. Alfred is a gifted Malaysian songwriter residing in the United States. So you will literally be singing the Psalms in songs. Sylvester Nicholas and Alfred Lee co-produced this album. Sylvester's wife, Juliana sung lead vocals for most of the songs, with her soprano voice.

The album very traditional and devotional in genre and will minister very much to the older generation who love such worship styles. The songs do carry an anointing, so playing the songs may leave you experiencing God's peace and joy.
HE IS THE ONE was released in October 2001. The album consist of 12 songs written by Vincent Ramesh and his friends. Vincent has previously released a Christmas album several years ago.
Vincent Ramesh has brought together a team of talented musicians from different churches to record this album. The album is produced by Vincent together with Don Stevens. The music is contemporary with lots of fancy guitar work by Luke Sanjay.
E-mail: vmichael75@hotmail.com