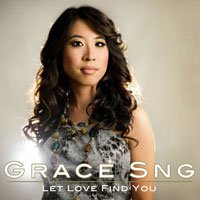 Grace Sng
Grace Sng (pronounced "sung")
In 2010, Grace launched her career as a singer songwriter and recording artist with Emerton Records, an artist development company based in Vancouver, Canada and released her debut single, Let Love Find You, to radio stations across Canada. It was co-written and produced with Canadian recording artist MARIKA and the Mach 1 Music production team (Los Angeles).

Growing up in Malaysia and England, Grace was expected by society and parents to pursue a career in conventional professions such as medicine, accountancy or law. For Grace, it was quite a challenge to hold on to aspirations such as singing and songwriting. She reluctantly chose the route of Accounting and Finance at Warwick University in the UK but soon found out that she was walking in a path very different from her true dreams and desires of being a recording artist.

After much soul searching, Grace packed her bags and moved to Vancouver, Canada, where she studied music and continued developing her musicianship and songwriting. From there, Grace had the opportunity to be part of two Cross-Canada and US tours which gained her experience in both performance and touring.

Besides being trained in Speech Level Singing (SLS), Grace is a skilled songwriter, a classically trained pianist as well as a self-taught guitarist who fuses her training with her stylistic influences like Alanis Morrisette and Jewel to create an edgy melodic sound. Three of her songs made it as finalist & double semi-finalists in the 2011 UK Songwriting Contest for Pop, Adult Contemporary and Gospel categories. Grace's 3-song EP is available on iTunes & stores online.

In 2012, Grace was a composer, lyricist and the vocal director for the award-winning musical, Everworld, staged in KL, Malaysia. The musical won 4 awards (Best Original Music, Best Original Book/Lyrics, Best Music Direction and the Audience Choice Award) in the 2013 Boh Cameronian Awards. She also co-wrote and sang the song, Battle Cry, featured as a bonus track in Epomania, an epic soundtrack by Onn San, Malaysian composer (Secret Life of Nora, Everworld), arranger and NYU graduate.

Grace has a heart for the youth and the underprivileged. Grace is a part-time vocal teacher at StART Society Malaysia and is currently based in Malaysia as a freelance songwriter and vocal coach. She continues to pursue her dreams and lives to inspire people through words, music and songs that touches the heart and soul.