Malaysian Bands, Choirs and Musicals
Drunk Before Dawn, The Musical
by SIB (Sidang Injil Borneo) KL
In the early 1900s, Borneo was a mysterious land, a huge island in the South China Sea alive with stories of wild men, headhunters and the White Rajahs. It was against this backdrop that the story of SIB began, and Drunk before Dawn, The Musical was set.

Drunk before Dawn, The Musical is a showcase of young Malaysian talents, with composers, orchestrator, playwright and lyricists all under 25. Featuring an entire cast and live orchestra of over 80 people from all walks of life, from as young as 7 to 60 years old, from mummy's boys to managing directors of multi-national firms, the musical was staged to standing ovations at four performances in PJ Civic Centre from 9 th - 11 th December 2004 to over 4000 people.

But more than a glamorous display of vocal, musical talents, drama prowess and special effects, the musical was a celebration of the fortitude of Christian brotherhood. Nothing pleases God more than an army of His, moving constantly in a unified direction, fulfilling their destiny and His purpose. Drunk Before Dawn was a testimony to that, to SIB's resilience as an effective army that resonates God's grace and mercies.

From the time the composers, orchestrator and lyricists from SIB KL sat down to compose the 14 awe-inspiring song and music, to the cast who willingly gave their time for the cause by surrendering 4 months of their lives to rehearse 5 times a week, and the resilience of the producer, directors and departmental heads in herding such a large group of people into a singular focus – it could only be God.

And God has transformed their wonderful sacrifices into lives touched.

Today, SIB has gone beyond the shores of Borneo. In just under 10 years, SIB now has 35 churches in Peninsular Malaysia. SIB KL is the sole English-speaking congregation with a singular mission to be Seekers of God, Inspired to Serve, Building People.

On 5 th December 2004, SIB KL celebrated its 10 th Anniversary in Peninsular Malaysia by hosting a grand dinner for 2000 people at the Sunway Pyramid Convention Centre. The senior pastor, Dr Chew Weng Chee challenged those present to press on and take the next decade with a renewed passion. The highlight of the night was when the musical Drunk before Dawn, was staged In Concert to a standing ovation of 2000 people.

Indeed, Drunk Before Dawn which will inevitably put Malaysia on the world map of musicals, is all set to influence the nations, impacting generations.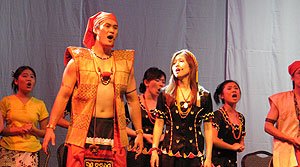 Talents Behind the Musical

Felicia Cheong Sharon Toh Tabitha Lam
San Weng Onn Isaac Chia