THERE'S SOMETHING ABOUT BLISTER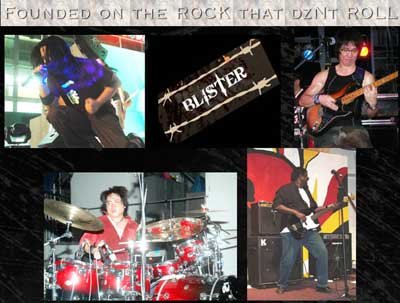 (Clockwise L to R: Micah Lee, Peter Khor, Nick Nathan and David Khor)
Here's introducing the band BLISTER comprising Micah Lee (Lead Vocals), Peter Khor
(Guitar/Vocals), Nick Nathan (Bass) and David Khor (Drums). Starting out as a church
group in Bangkok in 2005 where Peter, David and Micah were living and working, Blister
was popular especially in the Youth Unlimited concert series in Bangkok. They were
also one of the opening acts for Sonic Flood's concerts in Chiang Mai, Thailand. The
band subsequently reformed in Malaysia adding Nick, a bass player to their current
lineup.
What's in a name you say? "Blister" befittingly conjures up something small yet makes
an impact by making itself felt. Peter (the band leader) said, "That is precisely the idea
of the band – never mind small, we're relatively obscure, but we do deliver a chockfull of
impact with our songs and performance whenever we play."
Founded on the ROCK that doesn't ROLL (their motto and philosophy), Blister
specializes in their own brand of original rock tunes that bridge personal faith and the
secular with comfortable ease. Typically like a blister, they appeared out of nowhere and
won Starmaker's 2006 Malaysian Revival Songwriting Competition champion's trophy,
with six of their entries being placed in the finals.
Blister UNLEASHED!

They have just released their debut CD – UNLEASHED – a hard rocking conceptual
album of 11 tracks of Blister's newest and best material. Produced by themselves with
Joe Loy and Nick Lee of Sonique Productions, all the songs were penned by Peter and
Micah about the futility of war, personal faith in God, hypocrisy, temptations, child
abuse, overcoming self-centredness, to name a few. The album is both a catalogue of
their stance against forces unleashed in the world today, and about faith as well.
How does the album sound? – imagine Foo-Fighters-meet-Switchfoot-at-a-Metallica
head banger's ball! The songs are full of catchy hooks, crafted arrangements,
memorable melodies, hot guitar riffs and featured guitar solos amidst a wall of sound.
While primarily a rock album, the songs are radio friendly with some quiet moments as
well.
The lyrics are thought provoking, if not unexpected at times. Example lines like "he'll be
sending red roses to your grave [from Devil's Hit Parade]; I'm Dr Jekyll and Mr. Hyde …
disinfect me now [from Pharisee]" border on the outrageous, yet fit the context of their
songs perfectly. Even Blister titles like Ded Fly, Like Hell, Dying To Live, 247365 are
carefully chosen to evoke interest in the songs. Nothing is left to chance in
UNLEASHED.
And what would the band like to leave with the readers?
Peter says: "Blister may be an unknown band but we have something serious,
wholesome and meaningful to say in our songs. Our songs matter. Do give us a GOOD
listen and you won't be disappointed. What we've unleashed will uplift, comfort, and
challenge you to an awareness of the ROCK OF AGES. That's all that matters to us."
Blister is at www.freewebs.com/blisterpage. Check them out and listen to their album.
(Support your local musicians and get a copy – they are worth it!)